Continuing Education @ UIS Moodle Student Help
Contact: CAPE@uis.edu Call: 217-206-8650
Download the Moodle App
Student – Installing and Logging in to the Moodle Mobile App for iPhone. Learn how to get the Moodle mobile app installed and up and running is a matter of a few quick steps.
Search for Moodle in the App Store on your iPhone.
Click GET to download.
Click the Install button.
Once installed, click OPEN.
Enter the Moodle URL into the text box, then click Connect!
The app will prompt you to log in to the site in a browser window. Click OK.
After logging in, you will be asked if you'd like to open the page in "Moodle". Click Open.
You will now be directed back to the Moodle app where you will have access to your Moodle course(s).
Manage email notifications
Updating your Profile
In the upper right corner, click on your name. From the drop-down menu, select Profile.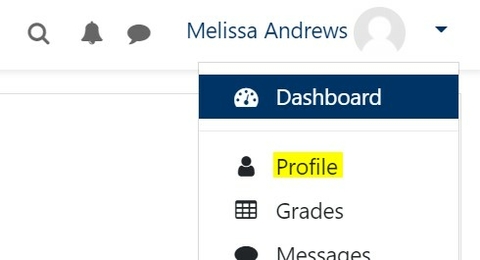 In the upper right, select the Actions menu gear and select edit profile from the drop down menu.

You have the option to update information about yourself. Under Description, add some information about yourself. To add your picture, scroll down to User picture. Click the Add document icon to find a picture from your computer, or drag and drop a photo into the selection box.
Organizing Courses on your Dashboard
You can customize the Course overview block on your Dashboard to access your courses quickly and easily. This block shows all courses that you are enrolled in. To filter the list of displayed courses by All, In progress, Future, Past, Starred, or Hidden, click the filter button directly under the "Course overview" text and select your choice.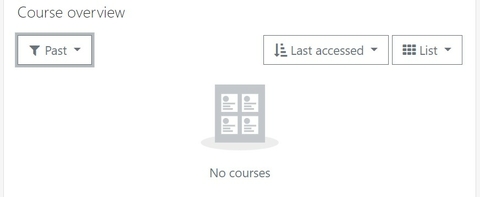 Starring, Hiding, or Showing a Course on your Dashboard
To hide a course on your Dashboard or star a course on your Dashboard, click the three dots to the right of the name of your course and select your choice.
Sort by Last Accessed or Course Name
Courses are sorted by "Course name" by default. To sort by "Last accessed", click the drop-down next to "Sort by" and select "Last accessed".
Viewing Grades in Your Course
When logged into your Moodle course, there is a menu of options on the left side of the screen.
Dashboard allows you to go back to the home screen.
Participants shows you the list of other students in the course.
Grades allows you to see your grades for individual assignments and the cumulative total in the course.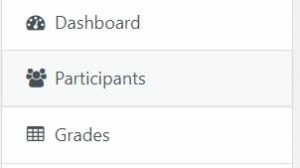 Managing Email from Forum
Depending on how forums are set up by an instructor, you may or may not automatically receive an email each time something is posted. You can control these emails by changing your forum subscriptions and how often you receive emails from the forums you are subscribed to.
Subscribing or Unsubscribing to Emails from a Forum

Click on the desired forum.
In the upper right-hand corner, click on the Actions menu gear.

To subscribe to the forum, click Subscribe to this forum.

To unsubscribe from the forum, click Unsubscribe from this forum.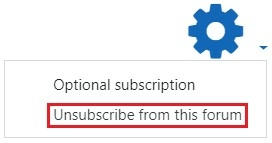 Changing How Often You Receive Emails from Forum Subscriptions
In the upper right-hand corner of the course homepage, click your name and select Preferences.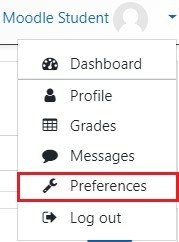 Other Troubleshooting ideas
Trouble with Video playback?
Your course video should work well as long as you have an up-to-date browser and computer operating system, and a reasonably good internet connection, ideally providing at least 1 mbps of download speed, which you can test on computers and mobile devices at Bandwidthplace.com.
Refresh Your Page Content
Sometimes things just don't load right: try simply refreshing the page.
PC:navigate to the page and press the F5 key
Mac:navigate to the page and press Command + R
Hard-Refresh
A hard refresh downloads all the page content new, clearing cache for the page
PC:Ctrl+F5
Mac/Chrome:Shift+Apple/Command+R
Mac/Safari:Apple/Command+Option+E then refresh the page
Completely Clear Your Browser Cache
Delete cache and cookies in the new Microsoft Edge
Open Microsoft Edge, select Menu (3 dots icon on top right corner of the browser) > Settings > Privacy & services.
Under Clear browsing data, select Choose what to clear.
Select "Cached images and files" and "Cookies and other site data" check box and then select Clear.