Kathy Best
2018 Recipient of the Alumni Achievement Award
Two-time Pulitzer Prize winner, Kathy Best MA '90 PAR was the recipient of the 2018 Alumni Achievement Award. She has covered news from the Statehouse to the Capitol, and from the digital domains of Seattle to the big skies of Missoula, Montana. Read Kathy's story.
Mary Mitchell Beaumont
2018 Recipient of the Alumni Distinguished Service Award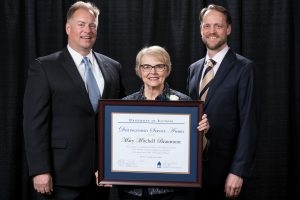 Mary Mitchell BeaumontMA '89 LAS was the 2018 recipient of the Distinguished Service Award. Mary has been a passionate advocate for UIS since she stepped foot on campus, and was a founding steering committee member of the Alumni SAGE Society. Read Mary's story.